Our in-store experience is temporarily unavailable
Our In Store Experience is temporarily unavailable, but please enjoy 10% off your online purchase of $75 or more
to create your own custom candle online.

Our sincere apologies. At online check out, please enter code LOYAL10.


Covid 19 Safety precautions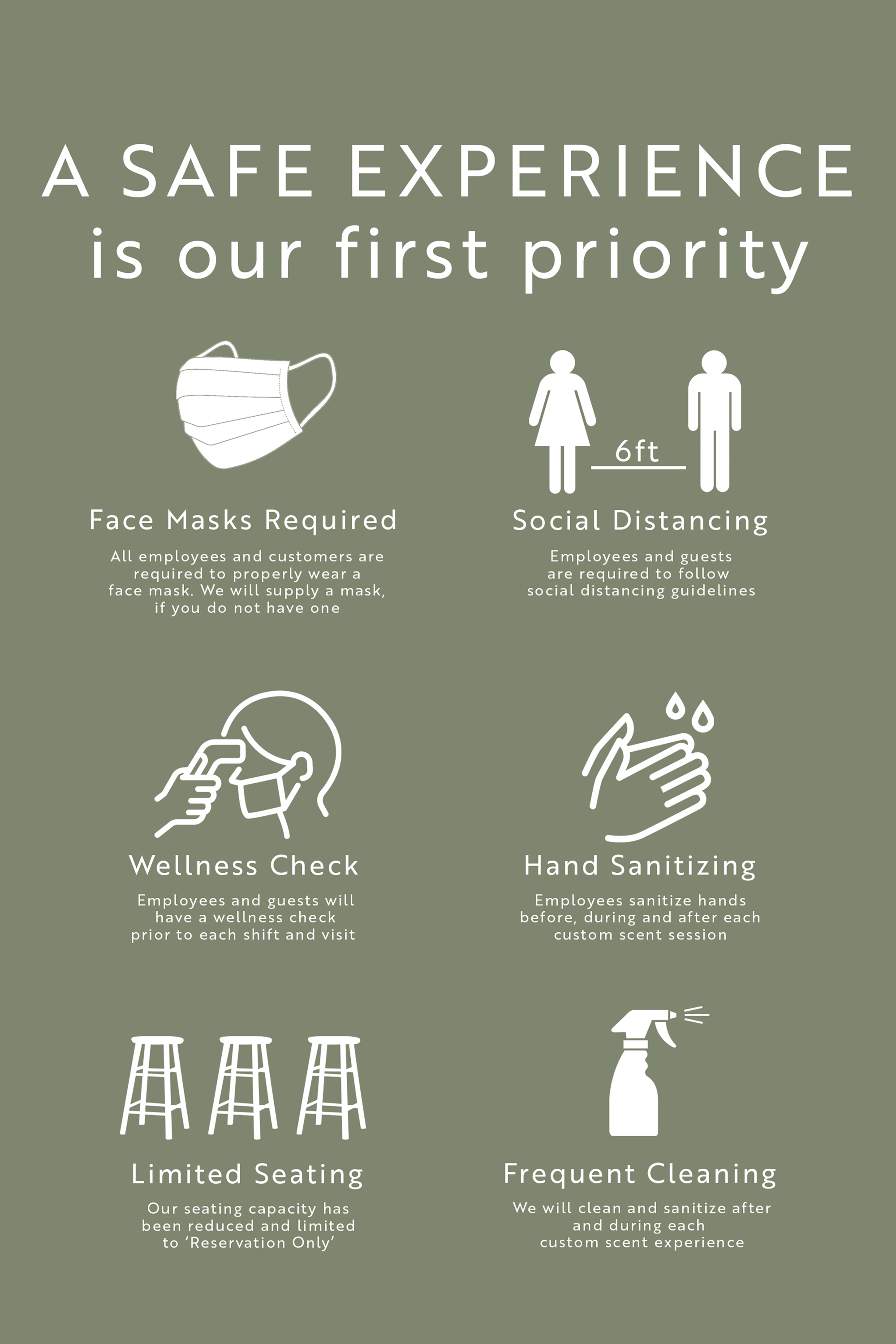 OUR EXPERIENCE & SAFETY PROTOCOLS

.‣ To minimize traffic, our experience is temporarily "reservation only" and we are not accepting walk-ins.
‣ Our door will remain locked during all sessions & business hours.
‣ Temperature checks will be performed on all guests & employees.
‣ Masks must be worn properly while inside the location & throughout the entire experience.
‣ Masks should not be taken off for any reason, including to smell oils, spoon, etc.
‣ Hand sanitizer will be available for use upon arrival and throughout the experience.
‣ All trays & utensils will be thoroughly wiped and sanitized before & after each use.
‣ We are temporarily removing Step 1 (our scent wall) during the experience. Wall candles are only available for purchase.
‣ No outside food or drinks are permitted into the shop.
‣ We are not accepting cash payments at this time.
‣ Our restroom is currently out of order. There are public restrooms located in The Village
AFTER YOUR EXPERIENCE

Candles take 1.5 to 2 hours to be ready for pick-up.
Flameless options will be ready immediately after they are made.
Curbside delivery is available for picking-up. Please call 813.284.0621 when you arrive in the village and one of our team members will bring them down to you.
The booking fee is non-refundable for reservations not canceled or rescheduled within 24 hours. Each session will end at 45 minutes after the hour to give our team time to clean & sanitize our space prior to the next group's arrival. Customers who arrive more than 10 minutes late, will need to reschedule and lose their reservation.
Located on the 2nd Floor above Paper Source

Wed: 10am - 7pm
Thurs : 10am - 7pm
Fri: 10am - 8pm
Sat: 10am - 8pm
Sun: 10am - 6pm