the experience: Frequently asked questions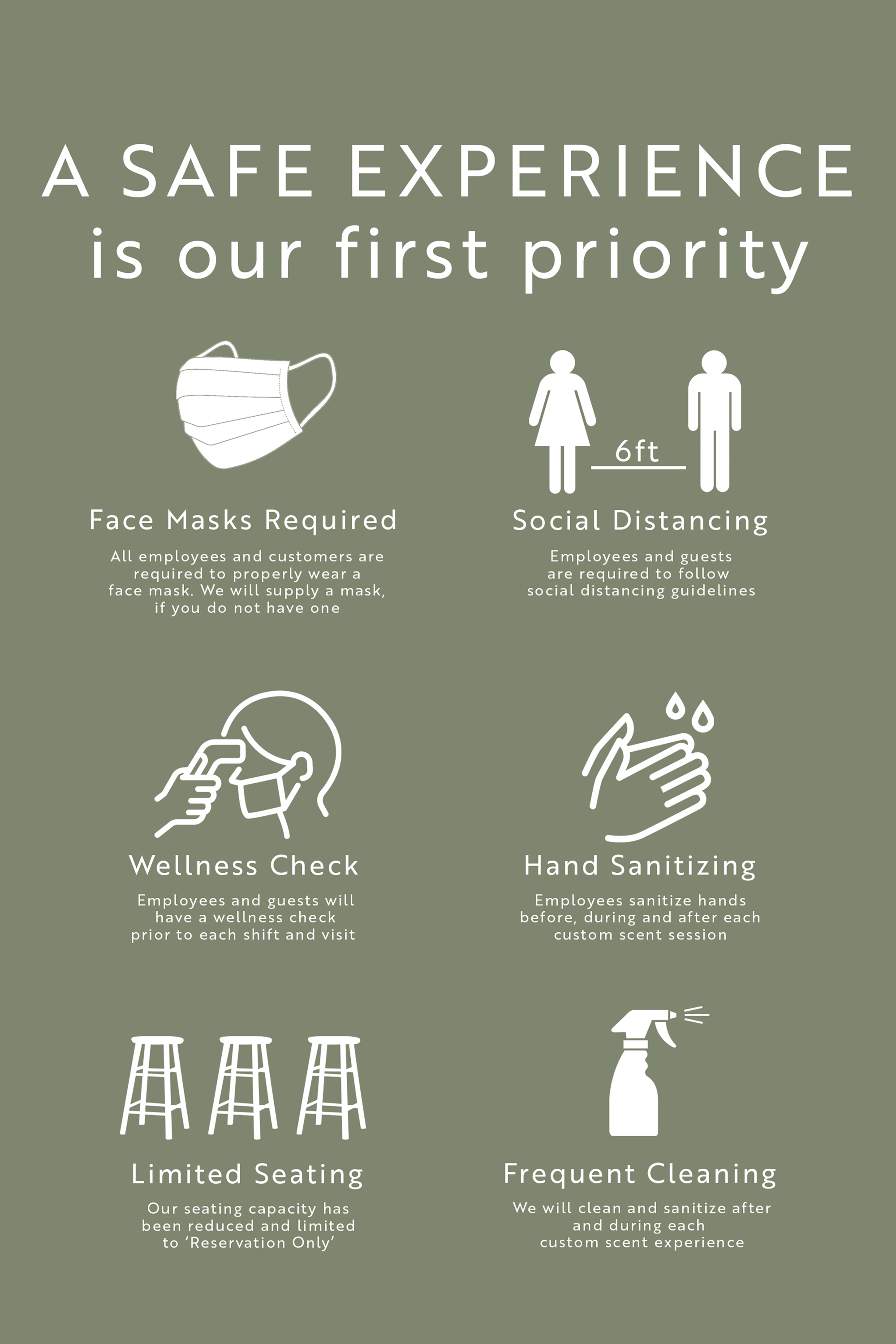 DO I NEED TO MAKE A RESERVATION?
Yes. Due to the Covid-19 Pandemic we are requiring reservations and request a sitting fee to save your spot. There will only be 7 available seats per hour. The experience will last 45 minutes. We will reserve the 15 minutes before the next group to sanitize the shop. Please use the link below or call 813.284.0621 to reserve a seat. If you have a group of 8 or more, please reach out to us and we can discuss the options available for larger groups.
IS THERE A SITTING FEE FOR THE EXPERIENCE?
Due to Covid-19 we are temporarily charging a $10 reservation fee. The fee will be refunded in full upon your arrival at The Candle Pour.
HOW LONG DOES THE EXPERIENCE TAKE?
On average the experience takes about 45 minutes. Our candles take 2 hours to be ready for pick up after the experience.

WHAT ARE YOUR HOURS OF OPERATION?
We have changed our hours of operation due to Covid-19.
Current In-Store Experience Hours:
Mon: 10am-5pm Pick Up Only
Tues: 10am-5pm Pick Up Only
Wed: 10am - 8pm
Thurs : 10am - 8pm
Fri: 10am - 8pm
Sat: 10am - 8pm
Sun: 10am - 6pm
To request a group request Monday - Tuesday please contact us by clicking here.
HOW MUCH DOES IT COST TO MAKE A CANDLE?
Our pricing depends on the product that you choose to make. The price includes the process of choosing your scents and creating your very own custom scent blend. Our prices range from $20-$55.
8oz candle: $25
12 oz candle: $30
2 Wick: $40
3 Wick: $55
Reed diffusers: $35

1oz Fragrance oil: $22
Room / linen sprays: $20
Soy Wax Melts: $20
IS THE EXPERIENCE KID FRIENDLY?
Yes. We welcome all ages! We do ask the parents for one on one supervision for children ages 8 and under.
CAN I BRING MY OWN VESSEL TO MAKE A CANDLE?
No. We provide vessels that have been tested with our wicks to ensure optimal burn time and quality. Outside vessels cannot be filled as we cannot guarantee how they will burn or even if they are safe to burn.
Located on the 2nd Floor above Paper Source

Wed: 10am - 7pm
Thurs : 10am - 7pm
Fri: 10am - 8pm
Sat: 10am - 8pm
Sun: 10am - 6pm